Windstar Cruise, Wind Star Ship, Windward Islands.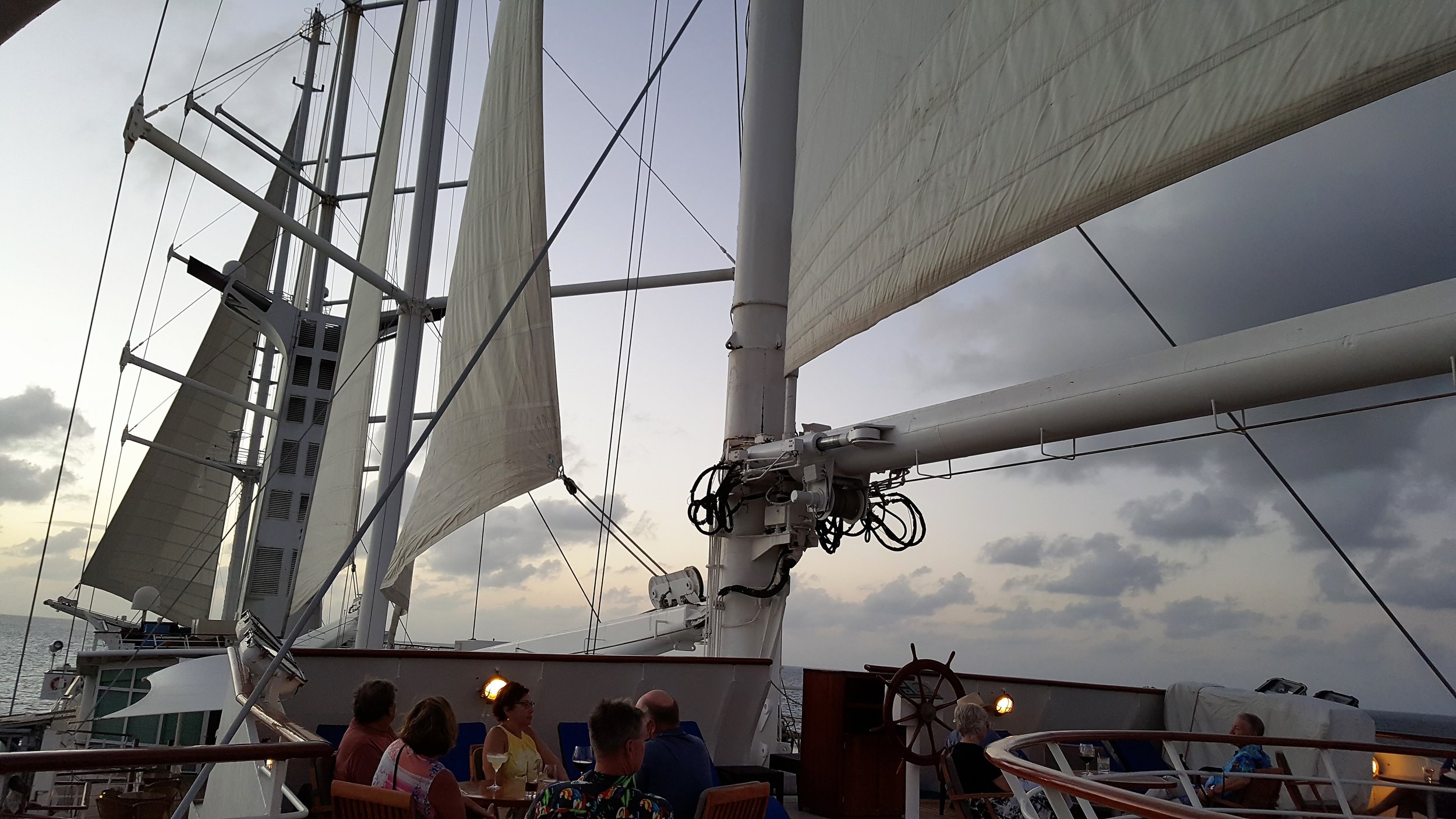 Mike and I do not fancy ourselves as cruisers. We went on a dreadful Carnival Cruise to the Bahamas when Mike's son was young. We are very conscious of the impact that large cruise ships have on the environment and we don't like crowds. We spent our first 10 married months living on a sail boat in San Diego Harbor and we do love to be on the sea. So when we were deciding what to do for our 25th Anniversary we thought we'd give Windstar a try.
Windstar Cruises http://www.windstarcruises.com/ appealed to us because of the size of the boat and the places it could get into that larger cruise ships cannot. We also loved the idea of a sailing ship. It afforded us the opportunity to see a number of islands all of which were on our bucket list. I am glad we did it this way because, surprisingly, the islands we thought we would enjoy the most were ones we don't need to go back to, and the ones lower on our list we would return to tomorrow!
Windstar has customer service down to a science! They are incredibly well organized and the staff is top-notch. The check-in is seamless, with only 120 people to check in there were no long waits, the system is not complicated, they have tables set up in the main salon and you go, show your passports and they give you your key which is also your pass to get on and off the boat. It is their way of making sure everyone is on board before departing any location. With a welcome drink in hand we headed to our rooms where our luggage was waiting for us.
There are a few options that you can pay extra for. You can pay ahead for the premium beverage package, it allows you to drink as much as you want and not worry about a bill at the end. We found this to be nice because it made it more like an all-inclusive - I'm not sure that it paid for itself but we enjoyed it. You can also opt for a laundry service. We chose this because we were traveling for over two weeks and wanted to pack as lightly as possible. The other plus was that if anything was wrinkled you just sent it off to be pressed. Every morning they picked up our laundry and late afternoon it was returned beautifully laundered and pressed. Another option is the WIFI; they have several options to choose from depending on how much you will be using it. We found that the WIFI was very reliable no matter where we were.
They have spa treatments on board and I thought I would take advantage of that but never found the time. I did hear people say they were great. There is a small casino open at night, a lovely lounge, shop, and library also on the main deck. Up one deck is a small pool and hot tub. There are lots of spaces to lounge or do yoga on the decks. The best part to me was the swim platform on the back of the boat which allows you to swim, snorkel, kayak or paddleboard off the boat.
We marveled at how quickly the staff learned everyone's names and by day two they had a pretty good feel for what your likes and dislikes were. At dinner our server was often able to make suggestions on wines and menu options that he felt would be just right for us, he was never wrong.
The rooms are all the same on the Wind Star, except for the Owner's Cabin. There are only 2 decks with rooms and each room has portholes. They are spacious and comfortable, plenty of storage space, a small seating area if you wanted to have room service, a fridge, tv, and the beds were very comfortable. They provide L'Occitane bath amenities and a blow dryer. We had a problem with our toilet one of the first days and we could not believe how quickly it was taken care of.
We took off close to sunset and the captain played this incredible music (Vangelis, Conquest of Paradise), the staff comes up on deck, and with a drink in your hand you watch as the sails are hoisted and off we go. I still get goosebumps remembering that moment. When at sea they will raise the sails as often as they can. This also decreases the amount of fuel the ship uses. They welcome you to go to the bridge and meet the Captain and crew. They will walk you through all the workings of the ship including explaining the stabilizer system and navigation.
The restaurant options on the Wind Star are limited but the menu is not! For breakfast you can choose a Continental breakfast that is spread out on the back deck near the pool. And there's a buffet or order off the menu at the dining area in the middle of the ship, with indoor and outdoor seating. Every morning they will have new specials and the chef is there to fix you anything you want. Don't feel social? Have room service anytime.
Lunch is served the same places as breakfast or you can order by the pool. You can even ask to have a picnic lunch made for you if you are touring the islands. Each sail has a private, on-shore BBQ with entertainment at a secluded beach.
Dinner is fabulous and they post the menu every day. They have an extensive wine cellar and the wait staff can help you with any paring. There is also dining Al Fresco on the back deck. In the evening they turn on the lights and create a romantic dining experience. They do require reservations for this to assure everyone has the opportunity. Each sail has at least one BBQ party on the back deck one evening.
You can plan your land excursions ahead of time, but don't worry if you change your mind they are happy to work with you. Each evening they have a talk in the main salon that goes over the plans for the next day, information about where you will be and a description of the tour options. Don't want to take a tour? Swim, kayak, snorkel or paddleboard off the back of the boat. The tender will transport people back and forth to the islands about every 15 minutes so you can make your own plans for the days.
We loved our Windstar Cruise so much that within 30 days of departing we booked our second adventure on the Wind Star's sister ship in Tahiti.
The staff really made the experience special. The islands were great, the ship was lovely but the friendly and professional, personalized service is what really tipped the scales for us. We spent time talking with several of the crew and what amazed us was how difficult it was to become a crew member, and they consider it an honor to be picked. Everyone starts out working for other cruise lines. They also explained that even though they had to spend long periods away from their family the crews often get to rotate together, and top level crew usually stay with one ship. You got the real sense that they treated their guests so well because it is a company that treats their employees well. They said the chefs cooked special meals for them that were often like they would have at home, where ever home was for them. There is a real comradery among the crew, from the Captain to the maintenance hands.